Melco N1 and N1/2 are audiophile grade source components to access, store and deliver Hi-Res Digital Music without any of the compromises of computers and their peripherals. They are both music store and UPnP server for Ethernet connected streaming solutions, and are also a source for a USB connected DAC. When connected to an USB-DAC, the internal player can be controlled directly from the front panel as well as by network App. The USB-DAC player supports DSD as both DoP and as Markerless DSD (Not DoP). There is no need for a PC in order to setup or manage the system and there is no data switch or IT device in the signal path to come between you and your music.
---
Melco - Audio File Import
      Direct Hi-Res Music Download
- Simply add your existing account ID and password on the front display, then purchase music on the vendor web site. The Melco will
  automatically download any pending music purchases and will also apply CRC check to ensure no data corruption.
- No need for a download computer with risk of data corruption and need to then move the music from the PC to the Melco.
- Download High-Res Music and qobuz direct to Melco Digital Music Library.
- Current download partner:
HIGH RES AUDIO.COM (Germany): https://www.highresaudio.com/
qobuz (France): http://www.qobuz.com/gb-en/shop
 
      Support for USB/CD/DVD/BD drives
        Melco will import or play music from a USB connected optical drive.
        Optical drive is automatically recognised - no setup or configuration.
         Import compatibility
- CD-DA/CD Extra/Mixed-Mode CD are supported.
- Gracenote Metadata and High Resolution Cover-Art
   * Cover-Arts can't be copied/moved
- Support for DATA Disc
- Imported CD is automatically placed into import_CD folder for easy music management.
- Menu items allows for setting of CD loader offsets for bit perfect import.
- Compatible CD Drives
    Pioneer, BDR-S09J-X
    Buffalo, BRXL-16U3
 Other Drives may work with N1. Please check with your dealer.
 - Compatible USB Drives
   BUFFALO HD-PNF Series
  Other USB 2.0/ 3.0 USB drives may work with N1. Please check with your dealer.
Melco - Direct Streaming Music
Unlike PC based systems, Melco has a dedicated PLAYER port. This allows connection directly to the network Streamer or Player without any data switch in the signal path which would damage the music data.
This direct connection concept we call Direct Streaming Music – DSM – and it is unique to Melco as in conjunction with the Ethernet purifier between the LAN and PLAYER ports DSM ensures that the Player receives only clean and accurate data, all packets are timed with low-jitter precision and all unwanted traffic is blocked. LAN lights can be disabled for highest possible data integrity.
There are two methods of operation – Network Mode is the default and allows a Tablet connected to the Wi-Fi to control the player as normal.  But for ultra-pure music playback DIRECT MODE can be selected – in this case there is no need for any external Ethernet or IT components, and the Melco acts as DHCP server to the Player. Browsing and control is then from the player front panel. 
Conventional Streamer connected to dataswitch and NAS - streamer receives unwanted traffic.
Streamer connected directly to Melco player port.
Full benefit of Melco dedicated Player port.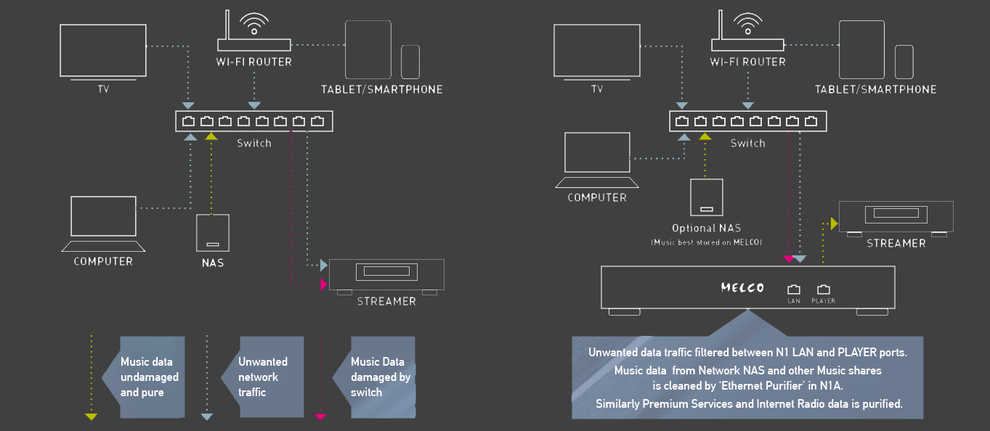 Melco - Local USB-DAC Player
 - The Local USB-DAC player can be used in the same manner as the Network Player. The Local USB-DAC player is simply controlled from
   a UPnP Control App on a Smartphone or Tablet on the network. The App discovers the N1 - DAC as a Digital Media Renderer or Player 
   on the Network as soon as a DAC is connected to the N1.
 - The N1 is connected to various Hi-Fi USB-DAC using a standard USB lead.   >Link to
compatibility list
 - The N1 Local USB-DAC Player supports PCM up to 384 kHz / 32 bit, and DSD up to 11.3 MHz Quad DSD.
 - Automatic sample rate adjustment to match the capabilities of the connected DAC - e.g. 192 kHz is automatically downsampled to play on
   a 96 kHz capable DAC.
 - Automatic conversion of DSD to 32 bit PCM for USB DAC that does not support DSD. (Manual setting in the Menu)
 - The Playlist can be stored either on N1 (Mode 1) to allow the playlist to be maintained even if the App is out of contact, or the Playlist is
   stored on the App (Mode 0) when the App requires it. (Confirmed App: Kinsky, Bubble UPnP)
 - The Melco Local USB-DAC player can be easily controlled by your favorite UPnP control Point (App).
 - The Melco Local USB-DAC player will play Music stored on open shares on the Network in addition to music stored on the Melco.
 - Gapless playback is supported. (WAV FLAC AIFF ALAC)
 - Melco Direct Local Play - browse and play music directly from the front panel without any requirement for an App or Ethernet connection. Support Repeat and Shuffle playback.
 - CD transport -  A CD loaded into the optical drive offers choice to IMPORT or PLAY. Selecting PLAY - the N1 functions as a high-end CD player allowing use of the latest USB-DAC technology with control from the front panel and informative display on the front panel OELD. Support Repeat and Shuffle playback.
 -
MELCO Markerless DSD Playback (Not DoP) - DSD file is played without PCM marking if the connected USB-DAC supports Markerless DSD playback. Check the compatible USB-DAC.
"DSD over PCM priority mode" applies DoP playback even if a connected USB-DAC supports Markerless DSD playback.
Additionally, "Legacy" mode will work as previous firmware Ver 3.00-3.21 Local USB-DAC Player.
 - TIDAL/Qobuz support - play songs from streaming service on the connected USB-DAC.*
   Compatible App to play from streaming service: Bubble UPnP (Android only), Kazoo, mconnect
   *The available streaming service will vary depending on country.
Melco - Simplified Installation and Operation
 - No PC required for setup and installation - no specialist knowledge needed.
 - Pre-installed media server - no configuration required.
 - Supports multiple specialised media servers - currently shipping with Twonky 7 with DSD support.
 - Informative OLED front panel display - displays current streaming track data, system status, and setup.
 - Simple menu navigation structure and track selection.
Melco - Support File Format
Support file(LAN):DSF, DFF, FLAC, WAV, ALAC, AIFF, AAC, MP3, WMA, OGG, LPCM
Support file(USB):DSF, DFF, FLAC, WAV, ALAC, AIFF, AAC
Sampling frequecy(LAN):44.1K, 48K, 88.2K, 96K, 176K, 192K, 384K, 2.8M, 5.6M, 11.3M
Sampling frequecy(USB):44.1K, 48K, 88.2K, 96K, 176K, 192K, 384K, 2.8M, 5.6M, 11.3M
*Support bit: 16-32bit(PCM), 1bit(DSD)