V3.73 FW paves the way for full Internet radio capability on Melco when using the USB-DAC Local Player. Full Internet Radio integration will follow in a future FW, but this blog shows how to manage m3u playlists to give Internet radio access. (Full integration will have an Internet Radio Portal to allow for searching for stations, and this will manage favourites as well as allowing for the possibility of the Internet radio location or URL changing)
---
Each Internet radio station has a unique web access point or URL.
The URL can be located using various web services to show the currently available stations and their URLs.
The URL is added to the Melco music library in the 'share' folder. The URL has to be in the form of a filename of form radioname.m3u 
The radio station is simply accessed by browsing to the PLAYLISTS folder on the N1 and selecting the appropriatem3u to play.
---
Various services can be used to locate the required Internet radio stations.  For this example we will use the vTuner website at <http://vtuner.com/setupapp/guide/asp/BrowseStations/startpage.asp>
vTuner lists the majority of the available stations and has nice search features. For example searching by location to UK we can see the BBC stations. There are other suitable services on the web.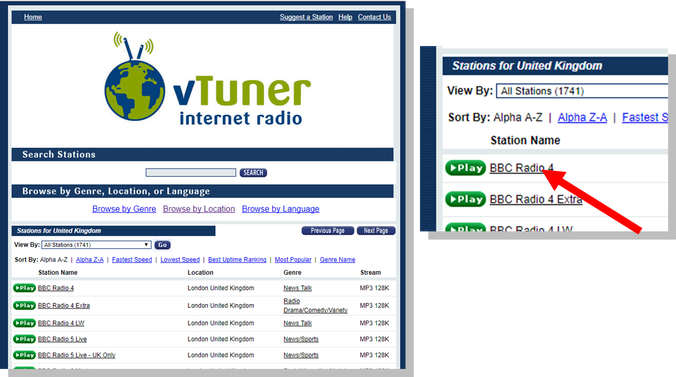 Clicking the text 'BBC Radio 4' will prompt a Windows PC to download the radio URL which can be seen in windows downloads folder in the correct .m3u format………

We need to put this into the 'share' folder of the N1 – it is maybe neater to create a new folder under 'share' which we will call 'INTERNET RADIO'
Copy this file and Paste into the 'INTERNET RADIO' folder on the N1.
The actual filename can be rather cryptic, so simply rename the file to be more meaningful before moving it, or rename on the Melco, but always preserving the .m3u extension.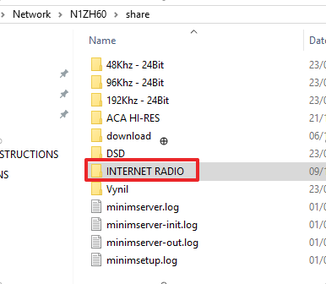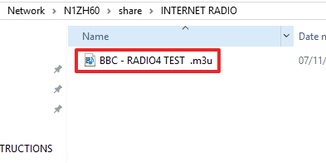 The Melco should be rescanned to cause the radio URL to be incorporated into the PLAYLIST folder from where it can be played. 
(Rescan ------  MAIN MENU --  SETTINGS  --  MEDIA SERVER  --  UPDATE MUSIC DATABASE)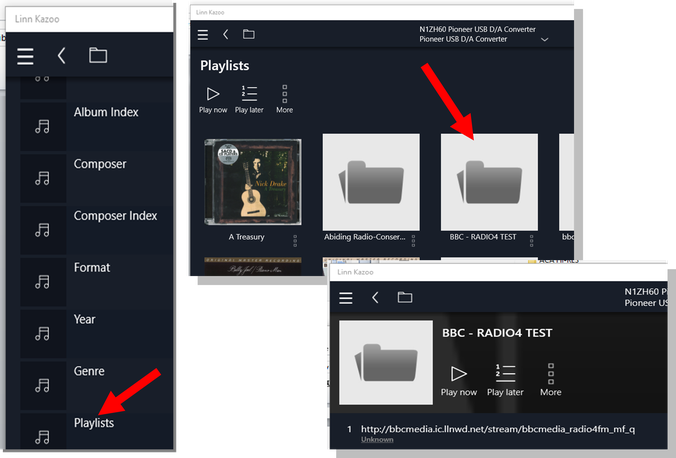 More radio stations can be added to the INTERNET RADIO folder as required – always in the .m3u format.
---
vTuner will allow searching for radio stations by location and genre and lists most stations.
If a web link for a station is known but is not in .m3u format then Notepad can be used to convert it.
---
Only http URL is supported. DLNA / UPnP does not support other URL formats such as https, mms, rtsp etc
Redirection of the URL is not supported
Music file formats have to be compatible with Melco installed CODECs – WMA is not supported
We do not override any regional restriction of the station.